Buckets, Spades and Rakes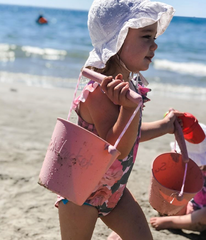 Those in the know, just know that no beach trip is complete without the bucket and spade. And NEW for 2022, our partner, Scrunchkids, have added a range of colourful rakes. All from the unique silicon range, therefore made from sand. They're soft, they're light and they are all the rage. Really.
Buckets, spades and rakes. Sustainably serious fun at the seaside.
Go and consciously create a sandcastle today. And make another one tomorrow.