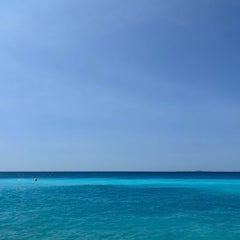 What is Blue Health?
Some may say it's best summed up by renowned French Mariner, Jacques Cousteau's phrase:
'The sea, once it casts its spell, holds one in its net of wonder forever'.
Many of us nurture memories of the first time we saw the sea and splashed on the shoreline on our first beach holiday. And have craved the colour blue ever since. Aided by the freedom of sand in our toes, paddling in sea water pools or simply marvelling at its magnificence.
It's now capturing everyone's attention, thanks to David Attenborough's BBC Programme Blue Planet. Yet it has always been in our hearts. Now re-awakened with amazing, informative and evocative story telling and fantastic film work.
Whatever your view, the ocean covers 70% of the planet and plays a powerful role for human well-being, supporting billions who rely on it for commercial growth and existential basics along with myriad marine life who live and thrive in its biodiverse eco-system and the 50% of oxygen it produces for those of us on land. 
More than 3.5 billion people rely on the ocean as a primary source of food and 10% for their livelihood and we all need it for carbon capture, oxygen and life sustenance. About 40% of the world's population live within 60 miles of the coast and two thirds of the world's largest cities are on the coast. 
It's not surprising then, that we all get excited by the first sighting of the sea: 'I can sea the sea', often preceded (many times) by: 'Are we nearly there yet'?
The moment we capture the blue on the horizon we may take a breath of expectation, evoking previous memories whilst our pulse rate quickens with what we'll do now that the beach and sea are near. 
Arrive at the shore and the sensation is enhanced with the the sea breeze on our cheeks, the warming sun on our face and the sand in our toes. With unique and expansive views to stimulate even the most urbane or countryside fan.
The blue beckons. Yet perhaps we need to make the link deeper. After all, our evolution began there and we have been discovering its power and importance ever since. Sustaining the ocean sustains us too. And all who live in her. Perhaps we should choose circularity and symbiosis rather than reductionism. 
It's why We love our beach celebrate the sea and our connection with the beach for all its benefits.
Our time on the beach is an important right of passage from when we were young, creating memories with the ones we love and revisit with family and friends to revitalise and refresh with the wonders of water and the scrunch of sand in our toes. A place to chill, express and create with unfettered fun.
We seek to celebrate the sensation of the sea, the benefits of the beach and create memorable moments with those we love. You can do this with our standout, recyclable, organic cotton leisurewear designs for adults and children, sustainable soft play beach items for creative kids, repurposed cool shades for ocean adventurers and re-useable food wraps for picnics for the beach and beyond.
All products are delivered in plastic-free packaging and are either recyclable, repurposed or made from sustainable materials.
And we give 10% of profits to beach and marine conservation. Well, we can't enjoy ourselves on the beach and in the ocean if they are clean and safe, can we?
Seas the day, we say, and join the beach-loving community.
Sign up to Happy Tides and get 10% OFF your first delivery. Enjoy FREE delivery on orders of £50 or more.  
And 'sea' us here.
Gusty Squalls, aka Andy, Founder
www.weloveourbeach.com