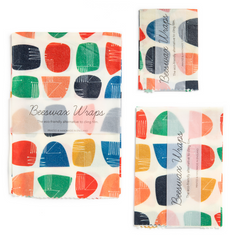 A beautifully designed range of Bees Wax Food Wraps for memorable and sustainable picnics on the beach ... and beyond. 
Ditch the clingfilm and move over to the eco-friendly alternative. Everyday. 
Bees Wax Wraps easily wrap around beach picnic or leftover food, cover a bowl/dish or help you to pack your sandwiches for the day ahead. They are reusable by simply washing them with warm water. Then, after a period of time they can be refreshed at home, bringing them back to their original stickiness. 
The LucasLoves' Millie pattern was designed in England and has been carefully printed onto an organic cotton fabric. The fabric is then coated with a mixture of natural ingredients, including coconut oil, organic jojoba oil, a pine resin and the key ingredient, a local Somerset beeswax. 
Colours
The Millie Bees Wax Wraps are currently available in 2 colours; Black & White and in 3 sizes, large, medium & small. 

Sizes
Large 400mm x 400mm | Medium 300mm x 300mm | Small 200mm x 200mm