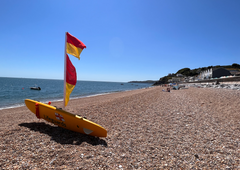 The beach is generally known as a fun and positive place to be - for a variety of reasons. And for everyone - whatever their walk of life, age or personality. 
An exciting place of egalitarian activity and all-round entertainment, if you will. 
Yet the Telegraph thinks the middle class have spoiled it with their rather negative outlook. We love our beach think not. And remain positive. For all 1,500 of the UK's brilliant beaches. (And those everywhere). 
In his article, on Tuesday 9th May, Ed Grenby (or should we say Grumpy?) wrote:
"The humble beach holiday is now a hellscape of overpriced fish and chips, idiots with drones, yoga classes and miserable teenagers.
Check the sandcastles. Are those turrets or transepts? Portcullises or pulpits? Ramparts or, God help us, rood screens? Because if it's the latter, that's not a sandcastle… that's a sand cathedral, and the first sign that your beach holiday has become dangerously middle-class ("Well Lottie and I just find sandcastles so militaristic, don't we darling?").
You see, no longer content to spend their vacation time in museums and art galleries and "fine examples of Baroque ecclesiastical architecture of the 17th century" like Baedeker told them they should, the middle classes are now ruining beach holidays just like they (OK, we) bodged the city break and the camping trip.
Don't believe me? Well from the Maldives to Margate, here are 20 ways Lottie and pals have spoiled the seaside…".
We 'beach' to differ. And respond with rigour and vigour. The beach is a fun place to be, a place to be creative, rest and rejuvenate, enjoy the well-being benefits of the water and forge memories with the ones we love. Something to take forward for generations. We love our beach believe in our amor with the shore. 
Ed erroneously wrote:
1. Children
Ed Grumpy: "The upper classes send them off on school cricket tours of the Caribbean; the working classes let them roam wild with nobody but Siri to look after them. In fact it's only the middle class who feel the need to keep their offspring around for 'quality time' on their beach holiday – which explains why the little rays of drizzle are so unhappy and unpleasant for the rest of us to share the sand with".
We love our beach see families with their kiddie winkle loved ones creating memories that will last forever with children of all ages, interests and dispositions. It's where they can be creative and play with unfettered fun - and meet other children doing the same - from all walks of life. We see their smiling faces all the time and developed these to raise a few more. 
2. Fish restaurants
Ed Grumpy: "Who was it that decided seafood was somehow more sophisticated than meat? Probably the same evil genius who worked out you can charge £34 for a few mouthfuls of tiny bones if you open a joint within 15 miles of the coast and announce that everything's 'locally caught'. Leave it to the octopus-botherers, we say, and enjoy your burger".
We love our beach just love the simplicity and soul food nature of fish and chips at the seaside. Who doesn't? And a shout out to our fine fisher folk who risk loss and lives to bring us fresh fish fayre everyday. We salute you. So in celebration of fish at the seaside we designed these to make you smile. And do think of the delicious (sophisticated) fish dishes from Japan (sushi) and Spain (paella). 
Ed Grumpy: "Like beach cricket for pretentious people". 
We love our beach love Boules on the Beach. There is even a Boules tournament for charity in our home city. Brilliant for friends and family. AND we love beach cricket. Great for the whole beach! Who doesn't love a team game of mixed ability for outright fun? Middle and leg please. Howzat? Not to mention our love of a cool cafe - like France (and Boules!). Here's one of our favourites at Blackpool Sands, Devon. Great for a game of Boules. And we can report that they've recently refurbished (and sell Boule sets for the beach!!). We won't mention Fanny! 
4. Boutique hotels
Ed Grumpy: "Egyptian cotton sheets, superfast Wi-Fi, extensive cocktail list… but does all that really beat a personal welcome from the landlady at a cosy little B&B on the promenade? Well yes, clearly it does. But we still miss starched sheets, a breakfast fry-up that finishes unyieldingly at 9am and the thrill of finding a Walkers shortbread on the tea and coffee tray in your room".
We love our beach love all kinds of beach stays - it depends on our mood, our schedule and our budget. A boutique hotel (here, with a warm welcome), a B&B and self catering (this is one of our favourites in the South Hams, Devon).