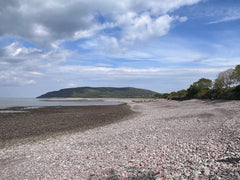 Starting anything new can seem like a mountain to climb. Yet simply starting is a good idea! And being an active walker is even better. 
It is written, "The longest journey begins with a single step" - an aphorism ascribed to Patanjali from the Yoga Sustras. It's very similar to the common phrase, "The journey of a thousand miles starts with the first step" by the Chinese philosopher, Laozi in the Tao Te Ching. Not Confucious, his contemporary, as many may think. 
And the even better news is, it runs from Minehead, in Somerset, to Poole, Dorset, taking in Devon and Cornwall too. With views to die for. And if you're not good with directions, this way, the sea is on the right and little acorn path signs are inscribed into wooden posts marking the route. You can, of course, always start in Poole and finish in Minehead. It's a binary choice in a modern world laden with too many choices!
And we know the benefits of walking as Garry Pratt tells us in his seminal read,
The Creativity Factor

,
published by Bloomsbury. 
The path also offers a good number of the UK's 1,500 beaches along its winding path. Which is one of many reasons why it's good to wander. 
Starting in
Minehead, with its sandy beach
, known as The Strand, We love our beach joined the South West Coast Path (SWCP) team to celebrate their 50th Anniversary in their #Trailblazing50 walk. The opening quote by Pantanjali is printed on their Coast Path Passport. 
The area also offers many beaches, all within 8 miles, from Dunster to Porlock Weir, all providing a place for a picnic or a shore line stroll:
One thing that struck us at the start was the group mix - more than 30 of us of multi-generational make up and canine companions - an inspiring and eclectic gathering of like-minded, active health souls, sharing their passion for all things walking and wandering. 
Moving off from Minehead, the SWCP team included Director, Julian Gray and colleagues, Alitha and Lorna, Sue Applegate from
Exmoor National Park
and Rob Monacam from the
National Trust Bossington
, we were led by Geoff Garfield, the local SWCP Volunteer Rep. and his black Labrador, Oscar.
An inspiring walk and talk, we were able to listen and learn with so much 'ground' covered with some really lovely people and canine companions, wrapped in a gentle sea breeze and under blue skies. 
16kms
in total taking in forested ascents, demanding descents, gorgeous yellow gorse, educational nuggets on North Hill, sandy beaches and Porlock's pebble beach, salt marsh, Exmoor ponies and spooky trees, stunning coastal and moorland scenery, vista stops and tea shops to savour.

More details, comments by fellow walkers and photos can be found on Facebook
here.
It was fascinating to learn of the sea's beach breach at Porlock in the 90s when the 6,000 year old pebble beach was 'broken' by a storm which flooded the fields behind and turned it into a salt marsh now full of fish, birds and wildlife. The star of the scene, however, was the spooky tree, killed by the sea salt invasion yet stoically standing proud in marshland proving a photographer's favourite at twilight with the setting sun.
We ended the amazing walk at picturesque Porlock Weir with its tidal port and a pint to round off an exceptional day. Perfect. Back on the #10 bus with the friendliest and funniest driver ever, face a-glowing, legs aching yet deliriously happy at the journey's achievement.
And now, with many reasons to wander the next step is to make the entry in our SWCP Passport, as our little reward, and remember to plan the next stage.
Sea on the right and ...
... Seas the day.