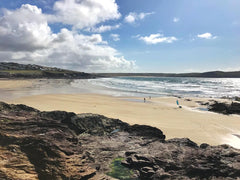 British beaches are a wonderland for kiddie winkles, four-legged friends and adults alike. The chance to spend a day at the beach, eating ice cream, building sandcastles and taking a dip in the calming, cool waters around our shores is something many of us relish. 
Many of us hold fond memories of balmy days spent playing and relaxing by the U.K. coastline.  We're quite spoiled on this green and pleasant land and while we don't quite get the weather of our Mediterranean counterparts, there's often no place we'd rather be. 
We love our beach hail from the South-West, so excuse our bias in this article but we wanted to focus on the beaches nearest and dearest to us.
The one's where our team built childhood memories and continue to create new ones well into adulthood.
We're 'shore' a gusty squall will push us across the U.K. in good time. So don't think we're being 'shellfish'. Please do tell us where we should venture to in order to expand our horizons! We ALL love our beach. 
Without further ado, here's our top five picks of the South West's most beautiful beaches. 
Woolacoombe, North Devon
3 miles long, Woolacoombe's golden sand beautifully juxtaposes the rolling green hills which surround it. Part of the North Devon Coast Area of Outstanding Natural Beauty, Woolacoombe has been recognised as Britain's best beach by Trip Advisor and Coast Magazine. Also ranking in the former's polls as the 4th best beach in Europe and 13th worldwide!
Unsurprisingly, Woolacoombe is an immensely popular destination for beach-goers. Famous for its surfing waves, whipped up by the tide and breeze. 
We Love Our Beach Recommendation: take Sandemonium, a good novel, a deck chair and set up camp.
Porthminster Beach, Cornwall
The iconic seaside town of St. Ives is an art lovers and beachgoers haven with its beautiful beaches, one of the finest being Porthminster. Located just a short schlep  from the town centre, the beach there  boasts a strangely tropical feel. Porthminster is also renowned for being a safe swimming beach, so grab your swimsuit and head down there. 
A proverbial pebble's throw  from the beach is Seal Island, jump on a boat trip and head out there to spot the colony!
We Love Our Beach Recommendation: Porthminster may feel tropical, but for the purposes of privacy and protection a windbreaker is (as always) a must. St. Ives is sustenance  for the soul, so take Vitamin Sea to stay on trend.
Polzeath, Cornwall
Popular with tourists and surfers, Polzeath is a great expanse of sand almost as long as it is wide at low tide. As a broad, flat beach, you are at the mercy of the elements and sudden Atlantic gusts blowing through, so a windbreaker is a must! 
Brimming with wildlife, dolphins, corn buntings and puffins can sometimes be spotted from the beach. Rockpools also line the far edge of the beach, making it perfect for budding zoologists looking for adventure. 

We Love Our Beach Recommendation: You can't go wrong with Polzeath. Take Shore Thing with you for protection from the madding crowd and elements.
Heading to the beach? Discover We love our beach's collection of 100% cotton windbreaks.