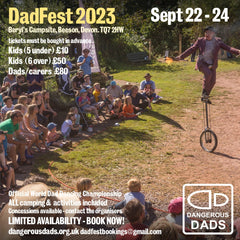 Down on the beach
The beautiful coastal region of Beeson, near Beesands Beach, South Hams, Devon, is set to host an extraordinary event from September 22nd to 24th, 2023. DadFest23, organised by the Community Interest Company (CIC) Dangerous Dads Totnes, promises to be a celebration of creativity, fun and the special bond between fathers and their children in the great outdoors. We Love Our Beach are proud to partner this event, recognising the immense value and joy that the beach provides as a natural playground for nurturing these cherished relationships.
Dangerous Dads and the CIC Network
Before delving into the exciting event that awaits at DadFest23, let's take a moment to appreciate the incredible work of
Dangerous Dads

.
Established in 2008, Dangerous Dads is a CIC network that aims to enhance the lives of children and their fathers by promoting outdoor activities that build strong relationships. Through their various initiatives, Dangerous Dads encourages dads to embrace their sense of adventure and inspire their children to explore the world around them.
The Great Outdoors: A Playground for Bonding
There is something truly magical about the outdoors, and nature serves as a remarkable backdrop for fostering connections between parents and children. The beach, with its vast expanse of sand, shimmering waves and endless possibilities, provides the perfect playground for dads to engage in fun and creative activities with their little ones.
Creativity Unleashed
At DadFest23, creativity will be at the forefront. Various workshops and activities will allow fathers and children to unleash their imagination. From sandcastle competitions and beach art sessions to kite making and storytelling, the possibilities for creative expression are endless. These activities not only spark a sense of wonder and curiosity but also provide a platform for dads to bond with their children through shared experiences. We love our beach are looking forward to seeing the unique T-shirt designs and watching the world famous, not to be missed, Dad Dancing Awards! 
Making Memories
The beach offers unique opportunities for fathers and children to create lasting memories. Whether it's running through the waves, searching for seashells, or building sandcastles together, these simple yet joyful moments strengthen the bond between dads and their little ones. The beach environment encourages playfulness, laughter and exploration, enabling fathers to step away from their everyday responsibilities and fully engage with their children.
Connecting with Nature
Beryl's Campsite
in Beeson, South Hams, Devon, offers a brilliant base for an amazing array of activities for the children and perfect backdrop for access to Beesands. Spending time at the beach not only nurtures the relationship between fathers and children but also fosters a deep connection with nature. The sound of crashing waves, the fresh sea air and the sand in the toes fun blend to provide the perfect cocktail.
We love our beach would like to thank Peter Everitt and Ian Blackwell of Dangerous Dads, Totnes for their kind invitation to be a part of this amazing weekend in the beautiful South Hams, Devon away from the worries of a whirlwind life. They'll be wearing our famous
Long Time No Sea Organic Cotton T-shirts

!
Dads, families and fans associated with DadFest23 can get 10% OFF We love our beach products by using the codeDD10. FREE delivery on orders of £50 or more. 
You can learn more about Dangerous Dads
here.
 There are over 20 groups in the UK as well as groups globally with more being set up all the time. Find one near you
here.
This blog was created by ChatGPT yet briefed and refined by a human.