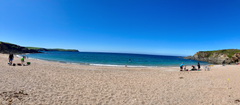 The expectation, excitement and emotion-filled joy of a visit to the coast are energising. For all generations and all walks of life. 
Are we there yet? I can see the sea. Is that where we are staying? Look at the view. The surf's up.
We all have fond memories of the beach. If we don't, we really should. The power of such memories, forged with creativity to build a sandcastle, an exhilarating surf, a carefree approach to paddling and a collective feeling of friends, family and foody picnics is inspirational. They rest in our psyche, we draw upon their playful positivity, massaging our minds with the memories. Something we never really forget. Nor should we. Happiness is where the sea meets the shore. The sea, the sand and surf de-stress. Whether it's the restorative nature of water, and its colours, the sound of the waves, and their rhythm, the refreshing nature of the gentle sea breeze, or the soothing simplicity of sand in our toes. We know all these help with our woes. And add to our happiness. 
Great Britain is blessed. It has 1,500 beaches. And impressively, 6,000 islands, many of them with beaches. Most not far from where most of us live, door to door. All have a promise of history, health and happiness. 
The UK Beach Guide provides insight into them all across our fair isles: 
https://www.thebeachguide.co.uk. A nirvana of knowledge in the beauty of UK beaches. 
We love our beach was born out of a desire to celebrate happiness, health and the harnessing of positive thinking - all things beach. Something for beach lovers to share their 'amour' with the shore. 
So we developed a range of beachwear with happiness, humour and healthy well-being in mind. With beach and marine themes. Beautiful, uplifting designs. Some without words and some with. Wonderful words that make you wonder. And smile. Men's, unisex, women's and children's organic cotton T-shirts and Hoodies for that cool and comfy feel:
https://weloveourbeach.com/collections/mens… … https://weloveourbeach.com/collections/womens… … https://weloveourbeach.com/collections/childrens… …
Some may say that life is like a tide. It has its ups and its downs, it comes and it goes, it ebbs and it flows. Each day it brings a clean and fresh perspective and makes us humble with its gentle, consistent and unwavering power. Yet calms us with its simple, cleansing approach and encourages us to be reflective. Everyday. Some might say. 
Perhaps we should have called this beach blog the wonderment of waves and well-being.
Yet to end, be_each 'shore' at the beach to leave only footprints and take away health and happiness.  
Only to return again. As regularly as the ripples of the tide.