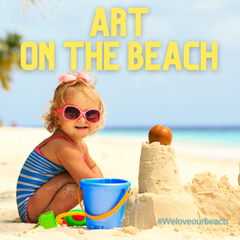 Can you make a statement in a sea of sameness?
Let's have a little fun this August! 
At We love our beach, we remember the days of building great sand castles on the beach, etching our names into the sand and creating sculptures with whatever we could scavenge from the beach. 
We say 'remember the days' as if we haven't done it since childhood... 
'Shore' thing. We didn't get down with the kids and build one or two during our last staycation. 
Surfing swiftly on...
In honour of every child's (and some adult's, ourselves included), favourite beach pastime we're launching Art on the Beach August (not quite ABBA yet happy tunes and times nonetheless).
It's simple, we want to 'sea' your #beach #art this summer. All you need to do is:
1. Send a phone photo of your creation to wave@weloveourbeach.com
2. Post your photo to Twitter, Instagram or Facebook with #ArtontheBeachAugust
The competition will end on the 31st August 2020. 
1st Place will WIN a windbreak of their choice!
Onto the rules! Says Britannia. 
The picture can be of a:


S

AND CASTLE: get creative!

E

TCHING: an etching in the sand

(wonderful beach words)

A

RT:

a sculpture with whatever is

already

on the beach 


Winners announced 30th September 2020. Sign up to our Happy Tides newsletter here. 
A big thank you to our friends at Entertainingly Different, Devon for providing some wonderful inspiration! 
Don't forget:
Take only photographs; leave only footprints.
So if your sculpture does include rubbish you've found, please take it home or bin it after!
We have a feeling we're 'beaching' to the converted by telling you that - 'sea' what we did there. Not one of our best! We know our 'plaice'.
One final thing.
Let's create 'sandemonium' by telling everyone on the beach about Art on the Beach August!
There's a time to chill, unwind and relax, it's not now.
Grab your bucket and spade, and go create with the kiddie winkles!