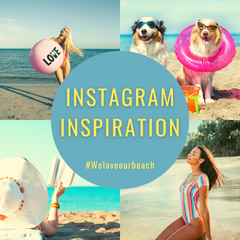 There are few things better than relaxing on a beach. Whether you're sipping a cool rose in the sun, enjoying 'fish and dips', getting active or simply taking the time to chill and unwind, nothing beats being by the seaside. It's a shore thing. 
When WE love our beach are not at the beach or thinking up witty lines for gorgeous windbreaks ;), you can bet your last oyster we're dreaming of golden sand and sea (sometimes even a pebble or two, too).
Few people are better at inspiring this wanderlust than the influencers of Instagram. If you follow any, you know exactly what we're talking about.
When we're browsing the 'gram', their beautiful images inspires us and evokes a desire to get back to our spiritual home - the British beach.
As you may have guessed - we love our beach and we love their content. It's always nice to be inspired and these influencers do just that for our beach-loving team.
We're not 'shellfish', so we thought we'd share. Discover some of our favourite 'seaside' influencers below...
Nothing beats family adventures by the seaside. From paddle boards and campervans to singalongs on the beach and snaps of barbeques and afternoon teas, Claire at the Tin Box Traveller inspires us with her endless list of fun activities for the whole family. 
Follow Claire for ideas and inspiration for your next family staycation.
Mad About Devon is a compilation of your best shots from the region. Tag them in your photos of Devon for a chance to be featured or dive over there to get inspiration and discover some of the county's more 'Instagrammable' locations.
Frankie runs a Cornish lifestyle blog https://www.meetmebythesea.co.uk/. 
Her Instagram is a beautiful blend of things to do and beach scenery which will inspire the itinerary for your next staycation!
Go take a 'looksea' at her profile!
Don't forget you can still win a We love our beach windbreak by completing our survey or entering Art on the Beach August. Shop our windbreaks now to pre-order one and take advantage of our launch offer!